In the lead up to Summit Challenge 2020, we find out more about some of the country's most famous peaks. This week we take a look at Kawarau (The Remarkables) and their ancient history.
Many people do not realise that Kawarau is the Maori name of the Remarkables mountain range. 'Kawa' means bitter or pointed and 'rau' means many – 100 or more. People assume this is based on the rocks in the river. However, Kawarau was actually the name of a chief."The chief was so esteemed that they named the river at his feet 'Kawarau' as well," says local Darren Rewi.
Another example of confused derivation is the word 'Wakatipu', which people assume derives from 'waka' – meaning boat, and 'tipu', meaning giant. A myth has developed around that with the story of the sleeping giant in the lake but the legend actually relates to the confluence of the Clutha and Kawarau rivers and the vicious current."Wakatipu" Rewi said, derived from Whaka – a prefix for doing, and tipu – to grow. So the name Whakatipu related to the place where growing was done as nomadic Maori would plant in the area and return to harvest.
At the heart of the legend of Lake Wakatipu is Manata, the beautiful daughter of a local chief, who was forbidden to marry Matakauri, the man she loved.One night, Manata was kidnapped by a fierce giant from the mountains named Matau. The chief was so distraught about his daughter that he promised Manata's hand in marriage to the man from the tribe who could rescue her. Matakauri snuck into Matau's lair under the cover of darkness and rescued Manata, and the two were happily married.But Matakauri wanted to be sure that Matau would never threaten his wife or tribe again, so he once again stole away into the mountains. He found Matau asleep, curled up on his giant side. Matakauri set fire to him, burning him where he lay. The fire burned a deep gouge into the earth and caused the ice and snow on the surrounding mountains to melt — forming Lake Wakatipu.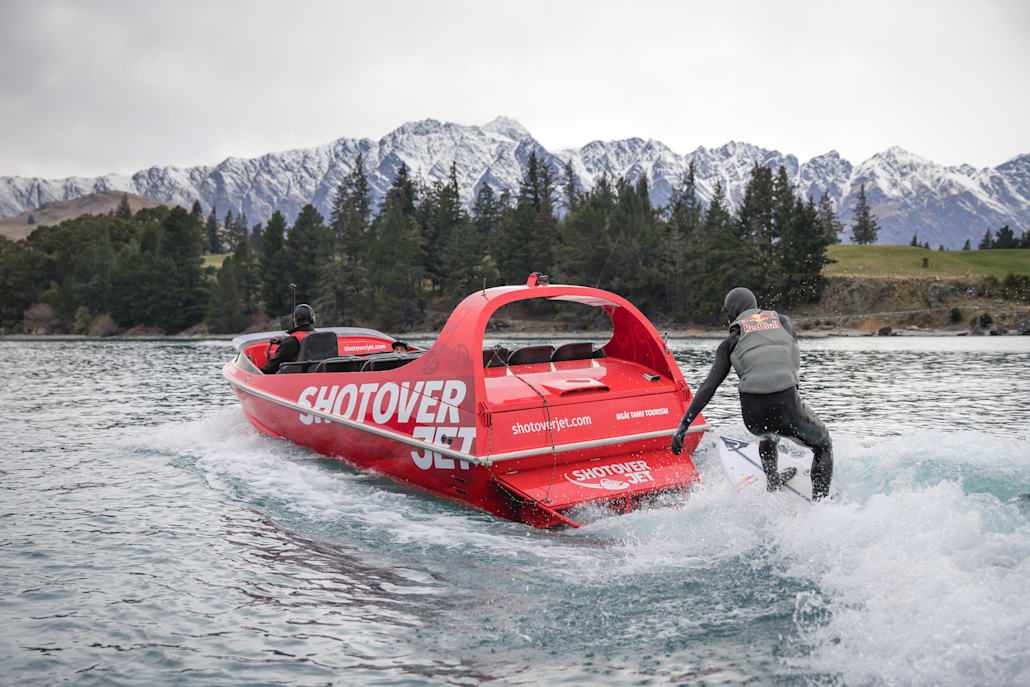 Today, the town of Glenorchy sits at Matau's head, Queenstown on his knee, and Kingston at his feet. The waters of the lake rise and fall up to 5 inches every few minutes, and this is said to be caused by Matau's still-beating heart, which could not be destroyed.There are also stories of the ariki of the Uruao canoe, Rakaihautu, who traversed the island with his famous ko and created the Southern Lakes of the interior and also the coastal lakes and lagoons of the east coast.Upon his journey, Rakaihautu came upon the great lake which he named Whakatipu Waimaori (waimaori means fresh water). This is today's Lake Wakatipu. The party then veered to the west and crossed a range which Rakaihautu named Ka Mauka Whakatipu (ka mauka means the mountains), the Ailsa and Humboldt Mountains. Beyond these mountains they found and named another large lake Whakatipu Waitai (waitai means salt water). This is Lake McKerrow.On the eastern side of Ka Mauka Whakatipu is Te Awa Whakatipu, the Dart River, which flows into Whakatipu Waimaori, while the river which has its source on the western side of Ka Mauka Whakatipu and flows into Whakatipu Waitai is named Whakatipu Ka Tuka, the Hollyford River