CHECK THE VIDEO HERE
You can't teach authenticity. But you sure can know it when you see it. One such person you see "it" in is 4X Womens World Champion, Carissa Moore. Carissa, or "Riss," practically oozes the stuff. In her smile. In her laugh. In her actions that the world does and doesn't see. Riss is the real-deal, a true keeper and giver of aloha…yet another concept hard to qualify, but easy to spot (aloha).
Regardless, "RISS," the newest cinematic offering from Red Bull Media House and Peter Hamblin, surely gives you an intimate vignette of Carissa Moore's whole M.O. following Riss around her 2019 year on tour (the first time in three years where she was back in the title race) RISS is also a portrait of a woman on a journey to give back, inspiring the younger generation and ultimately, striving to be defined by more than the results. Of course, it didn't hurt that in 2019, Riss won her 4th title and qualified for the Olympics.
Watch "Riss." While authenticity can't be taught…maybe it can be learned. At the very, very least, her Tahiti part sure is tapped. Either/or, we sat down with the film's star, Carissa Moore, and got an even deeper look at what went into this gorgeous film.
Surfline: Tell me a little bit about how "Riss" all happened… Have you been wanting to do a project like this for a long time? How did this all come about?
Carissa Moore: I've wanted to work on a project like this for a really long time. But this one was actually really unexpected. I had been trying to find support and backing for a while, and it just so happened that I wanted to do a project that's kind of different. I remember watching "Let's Be Frank," and falling in love with the movie and how it was done. It was so entertaining and so different. I guess that happened around the same time I was like, 'Oh, I'd love to reach out to Peter Hamblin,' when I found out that Peter Hamblin was trying to reach out to me. [laughs]
So, they just started filming. We went on a trip to Tahiti and then Peter ended up coming to a couple of events and then this kind of just morphed into itself. I'm really, really stoked with the end product and honestly Peter really outdid himself. It's such a fun piece. I hope that it's entertaining and something positive and people can enjoy it.
It feels really authentic and your character shows through. It also seemed like there were three themes that you were of trying to, I don't know, have the film you evoke…
Yeah, so one was "chase your dreams," the other was "live authentically," and last was "take time for others." And those were also the ideas behind my nonprofit Moore Aloha. Those are the ways, or rather, the code, so to speak, that I live my life by and the things that I want to try to share with people through the nonprofit. So that's kind of how we shaped the film.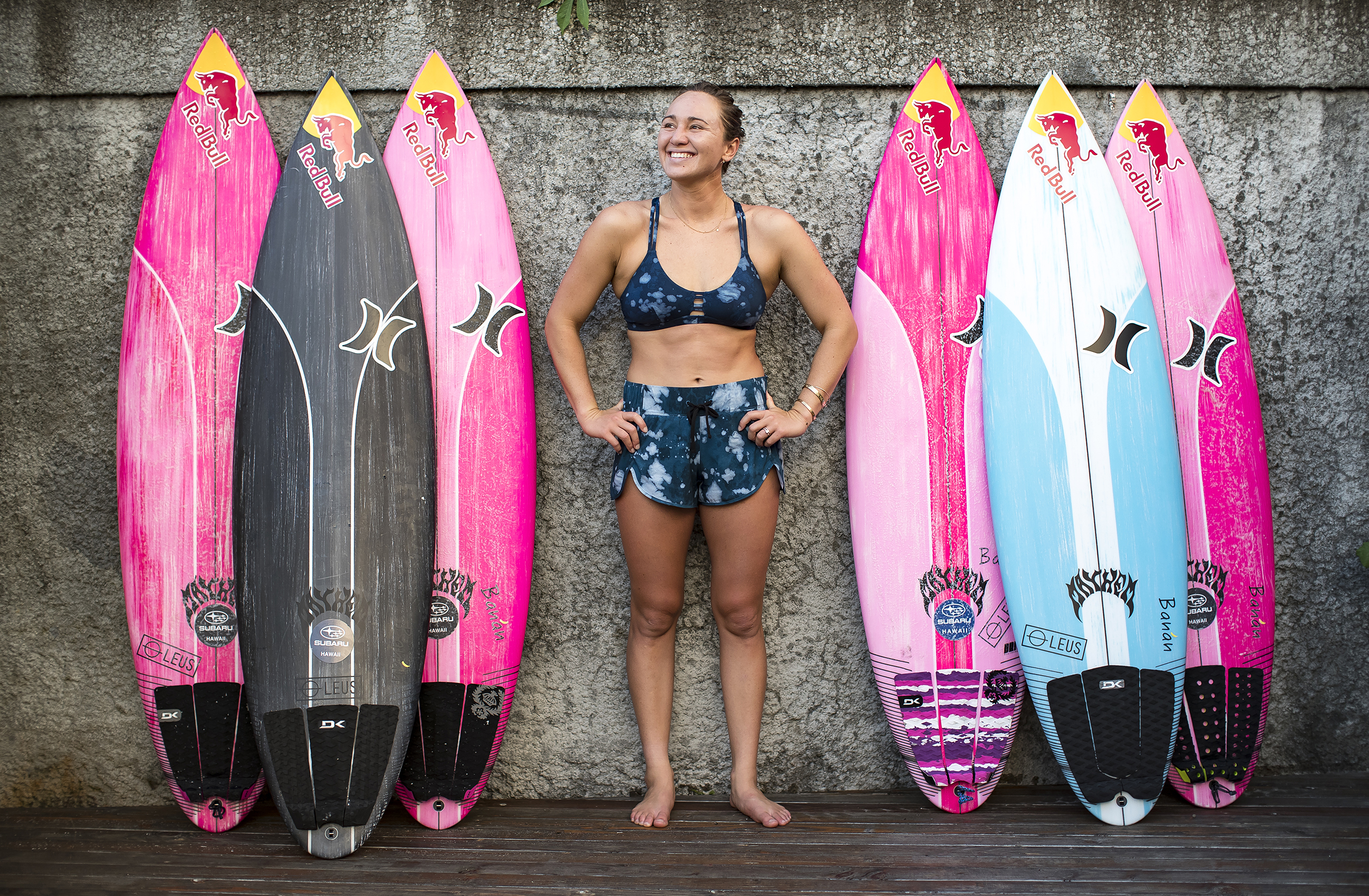 Carissa Moore. Photo: Ben Thouard / Red Bull Content Pool
What's your nonprofit?
I started Moore Aloha with my dad about a year and a half ago. It uses surfing as a platform to bring young girls together in and around water to support and empower each other, and to inspire each other to chase your dreams, to live authentically and to take time for others in the world around you. That's the goal: to use surfing to bring people together, but to also help them to be just good humans.
How do those girls get picked, or get into your nonprofit?
Yeah, while right now everything's kind of on pause, I did have a camp that I had planned for 20 girls on the Gold Coast of Australia. Because the nonprofit is really grassroots and small right now, I'm only able to accept so many girls for each event, but I do an application process. So, for the first camp, you had submit your report card, and tell me a little bit about yourself. Then they'd kind of write a short essay. Then the last step was the question: what does aloha mean to you and how do you show aloha? Then I kind of just read through them and I have a couple of strong women in my life that help me pick the 20 girls.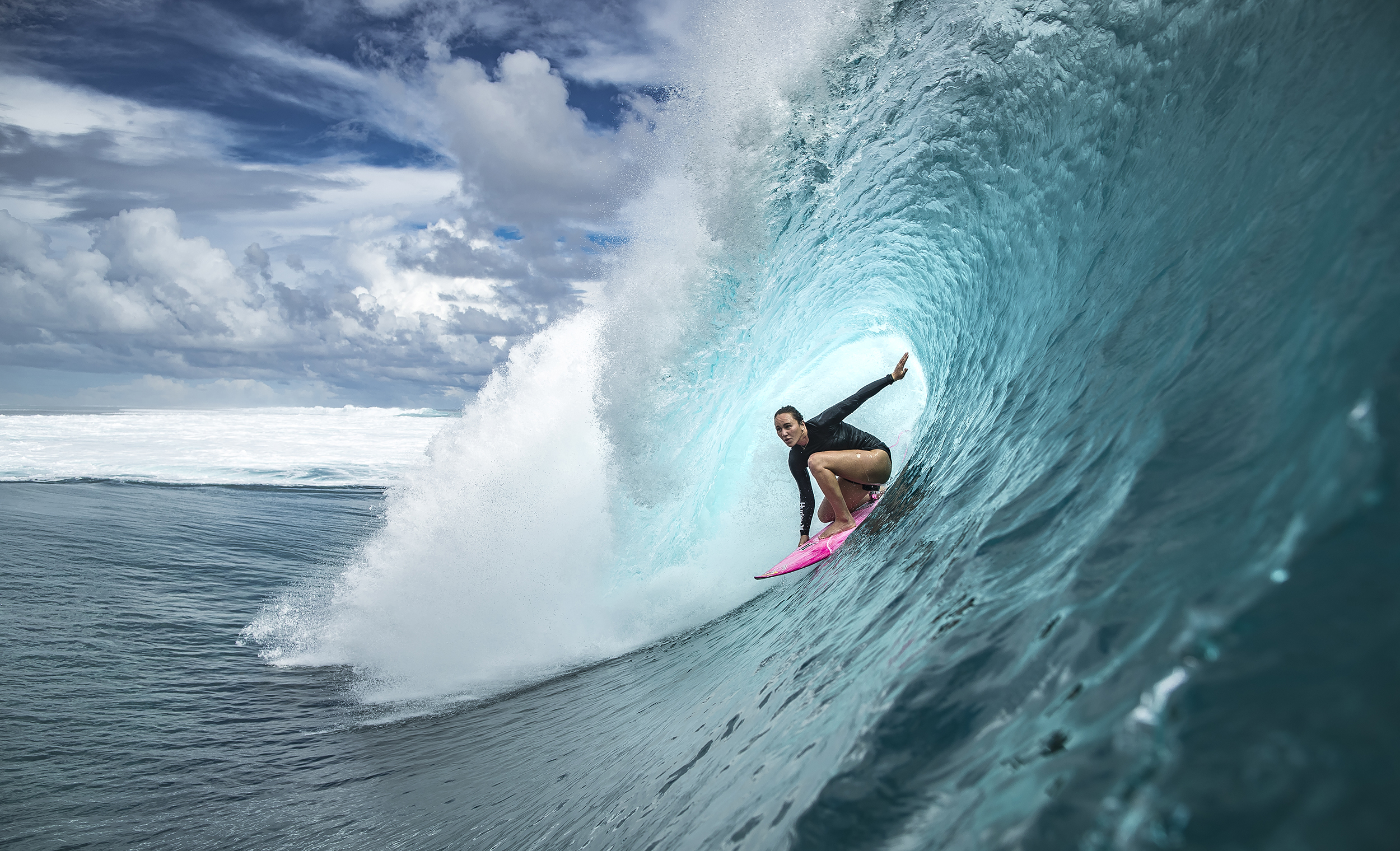 Carissa Moore. Photo: Ben Thouard / Red Bull Content Pool
Not to flip it on you, but that's a very good question…What does aloha mean to you?
Aloha to me means love and it's also how you treat other people. It's treating others with respect and kindness. It's that idea of just being unconditional and selfless and not wanting anything in return. I feel like if we all treated each other that way, the world would be a better place.
While, at its core, aloha is such an authentic Hawaiian concept, would you say some kind of aloha probably exists in other parts in the world?
Oh, definitely. I think that I've seen aloha with how I've been treated and my interactions with people from all over the world. New Zealand, Australia…It's just how you treat people, really. I have been treated so well and people have welcomed me with open arms and no questions asked. It's a beautiful thing.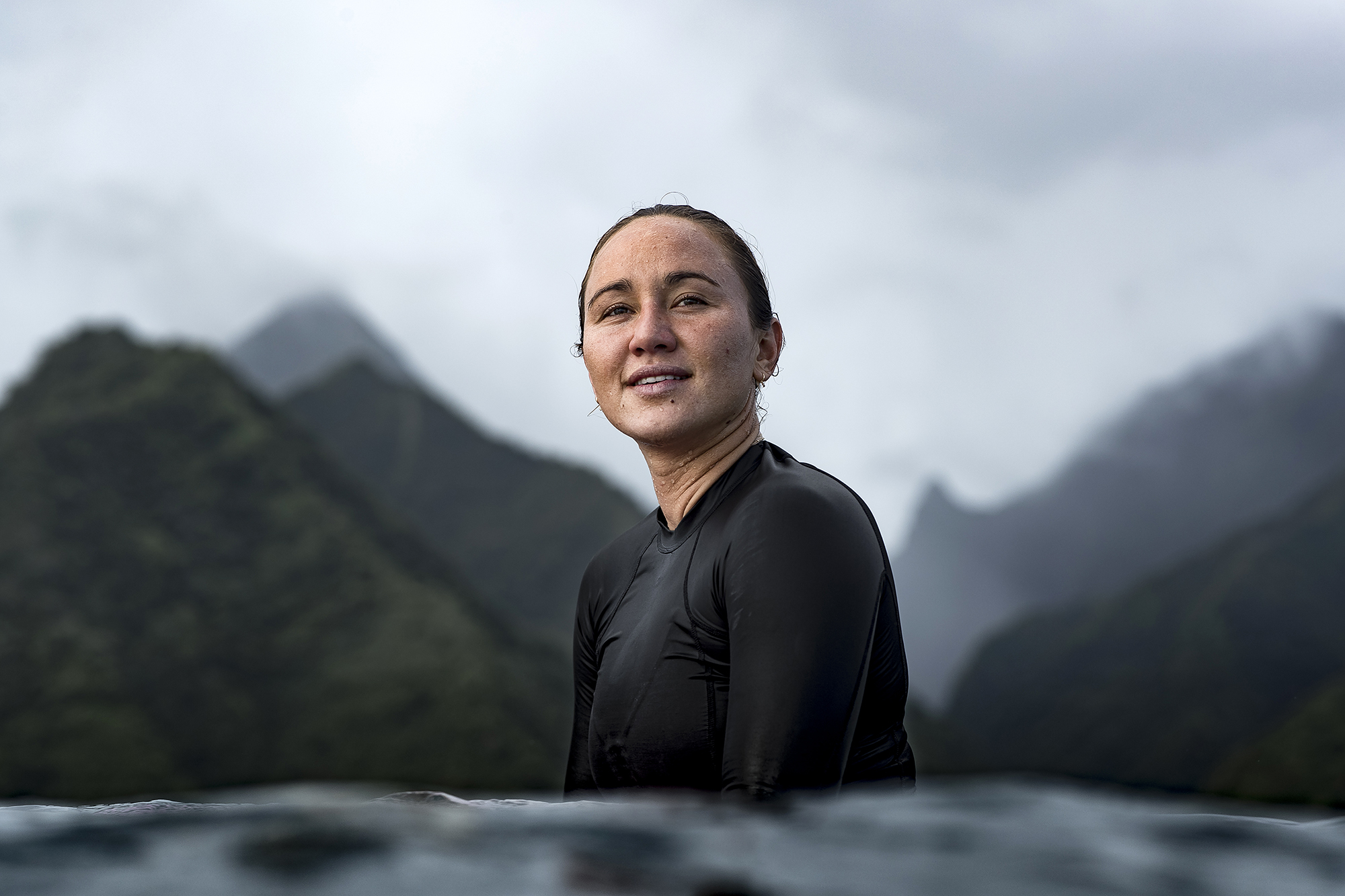 Carissa Moore. Photo: Ben Thouard / Red Bull Content Pool
Circling back to "Riss,"some of the costumery in the film is pretty magnificent. Where did those ideas come from?
That was all Pete [Hamblin]. I mean obviously I did the surfing and I competed on the tour, but he's the one who's seeing those moments. The fairy godmother idea, for instance, was like, 'Hey, what do you think about coming to London and coming into the studio and we dress you up as a fairy godmother?' [laughs] I'm like, dude, I don't know how this is going to fit but I'm going to trust you and run with it.' But I'm so glad that I did because it turned out awesome. I think it shows a different side, too, that I'm able to laugh at myself. I think it's fun to be able to joke at yourself sometimes.
Coincidentally, as the film followed your year on tour, you ended up winning your fourth world title. Did you ever imagine four of them?
I've had this conversation many times with my dad and I think we both dreamed. We both worked for one world title. We never were like, 'Oh, let's try to win the most a woman has ever won or try to get as many as Kelly.' There was never really a number to it. I don't know if there is a number to it. I'm just kind of going with the flow and taking it year by year. Every year that I'm on tour—I'm all in. I don't know. We'll see what happens.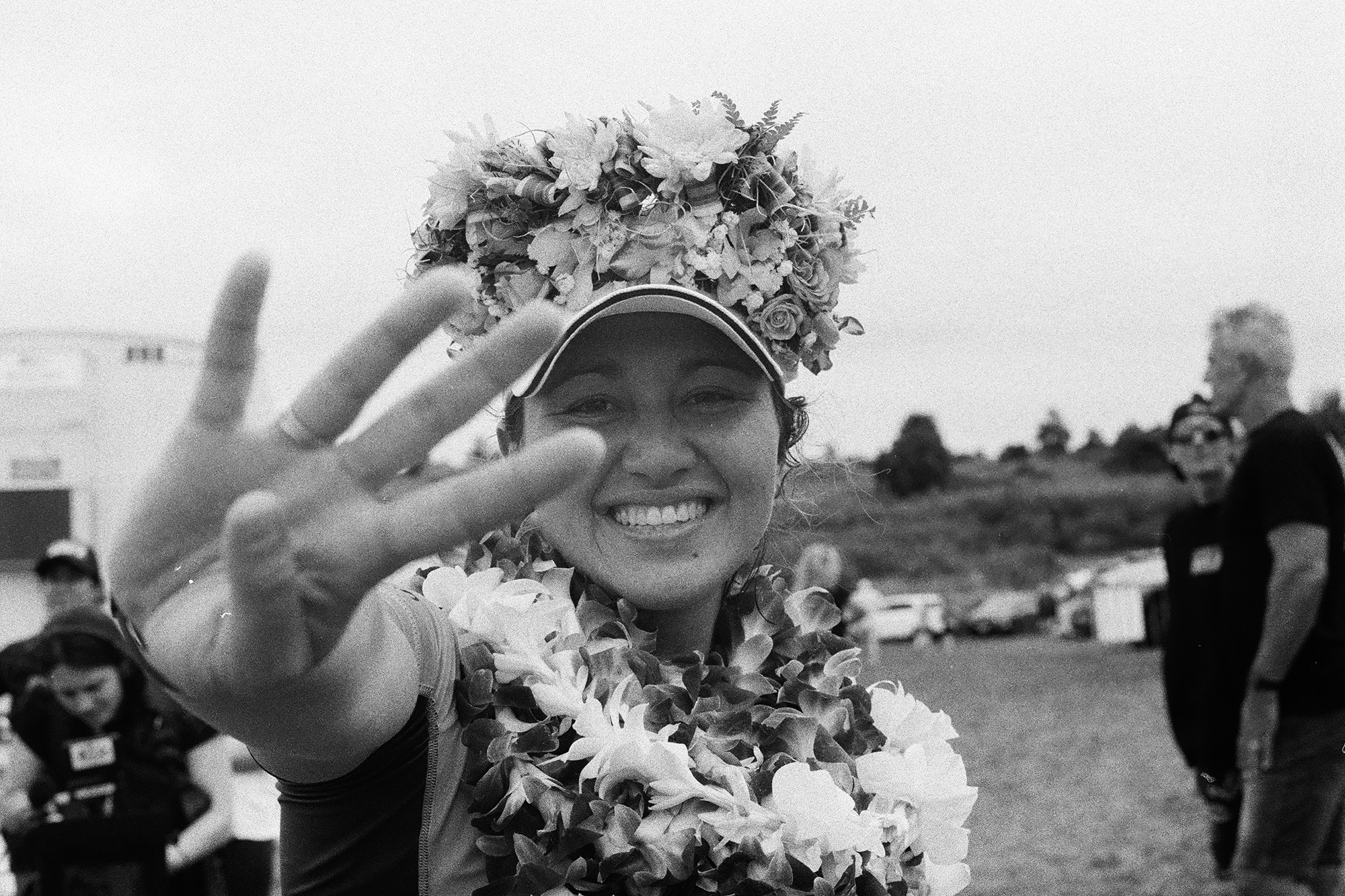 Carissa Moore. Photo: Peter Hamblin
Right, and you were supposed to take this year off, too, no?
Yeah. I'm technically taking a whole year off of the tour. I announced that back in December. I was just going to take some time just to do some things I haven't had the time to do.
Like what?
Just be a wife, and be at home, and hang out with my dogs, and do ceramic wheeling. Do some jewelry classes, those kinds of things. Then travel and film. Unfortunately, that's not really able to happen. But, then my other focus was going to be on the Olympics…but that got postponed. I'm dealing with the change, as is everybody.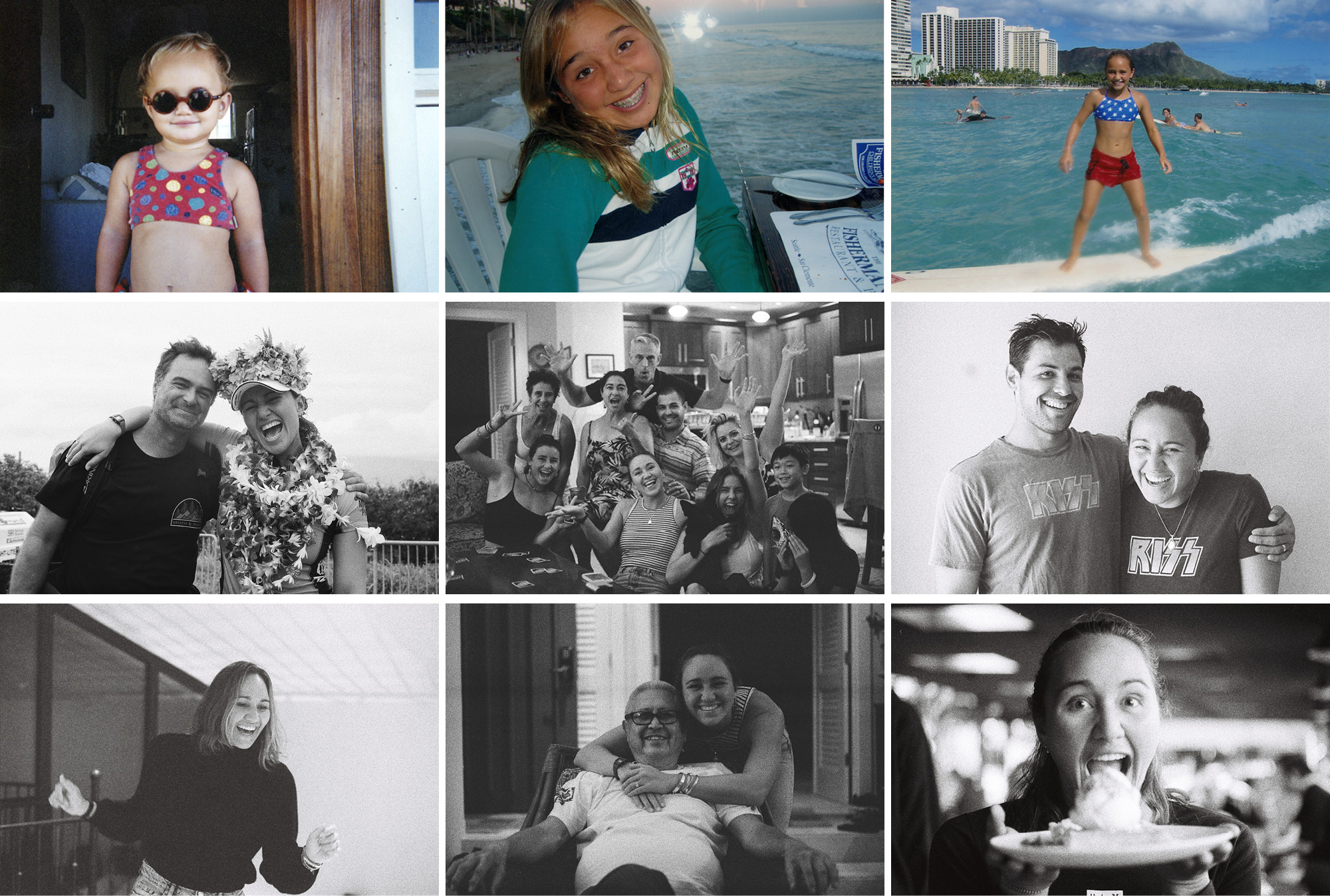 Photos: Peter Hamblin
True. So what else have you been doing during these couple months of "stay at home," besides surfing, [being allowed] in Hawaii?
Yeah, like I mentioned, my mindset was kind of in a more relaxed place because I was taking a year off tour. But I think having everything on pause has really allowed me to relax and settle in. I've been surfing almost every day; I'm very fortunate here since we're still allowed to surf and get in the water on Oahu. I've been training to maintain fitness and my health. Just hiking and hanging out with my husband, playing with my dogs. I guess this week I'm going to be busy with stuff for the film—that's exciting.
When and where does that release?
May 7th we're doing a Facebook Live release with Refinery 29, and then on May 11th I think it'll just be on Red Bull TV for whoever wants to check it out.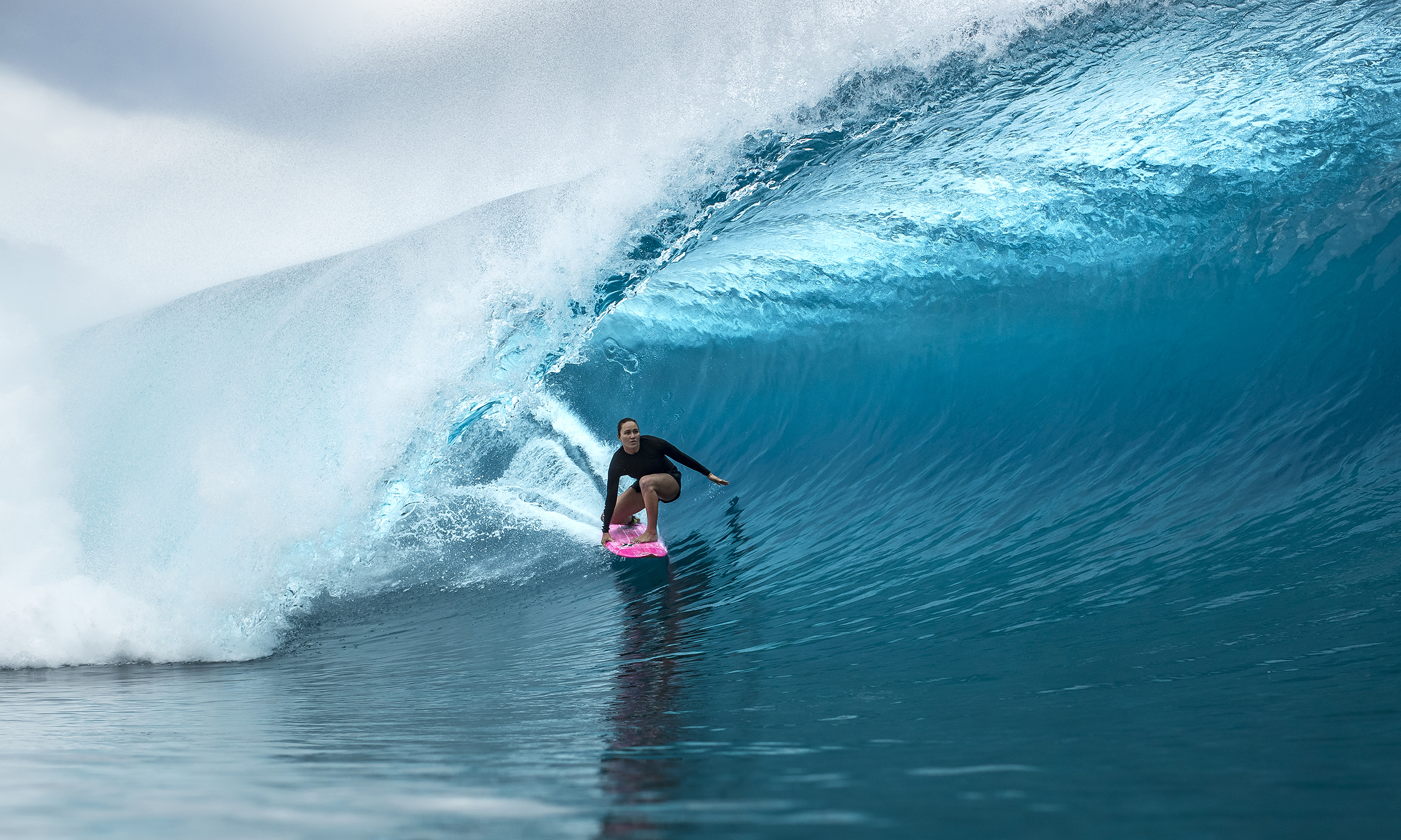 Carissa Moore. Photo: Ben Thouard / Red Bull Content Pool
Awesome. One more thing—that Tahiti session looked super heavy. When was that?
That was actually early last year in January. I really wanted to go there and push myself and learn a little bit more about the waves. It was an incredible trip. I'd really like to go back and get more comfortable. Especially, with the Olympics in four years holding surfing there. I think the girls will start making the trip there more often, so I'm excited.
Actually, one more…What's your advice for a young woman, or any age woman, wanting to embark on a project like "Riss?"
Just don't give up. Anything that's worthwhile and is great—takes time. It's worth fighting for. I think there are definitely times that I was like, it would be nice to have more people behind this, but if you have a few people that really believe in it and you're just pushing along and keep fighting and you're passionate about it, then I believe you can to make it happen. I don't know if that's good advice. [laughs] But it's something that I learned a lot this project.