In late April, Carissa Moore was standing on the tarmac at Honolulu International Airport. The four-time World Champ was awaiting a plane, but she wasn't traveling somewhere in search of waves like she usually does; instead she was there to welcome a Hawaiian Airlines Airbus A330, which was carrying 1.6 million facemasks from China.
The massive shipment of masks was orchestrated by Every1ne Hawaii, a philanthropic organization formed by North Shore lensman Zak Noyle along with Robert Kurisu, Alx Kawakami, Kimo Kennedy, Nicole Velasco, Ryan Matsumoto, Darragh O'Carrol, Jeff Laupola, and Keoni Williams. Early on in the spread of COVID-19, Noyle and his friends decided to do what they could to help Hawaiian communities. And after securing nearly 2 million masks, then partnering with Hawaiian Airlines, their plan was in motion.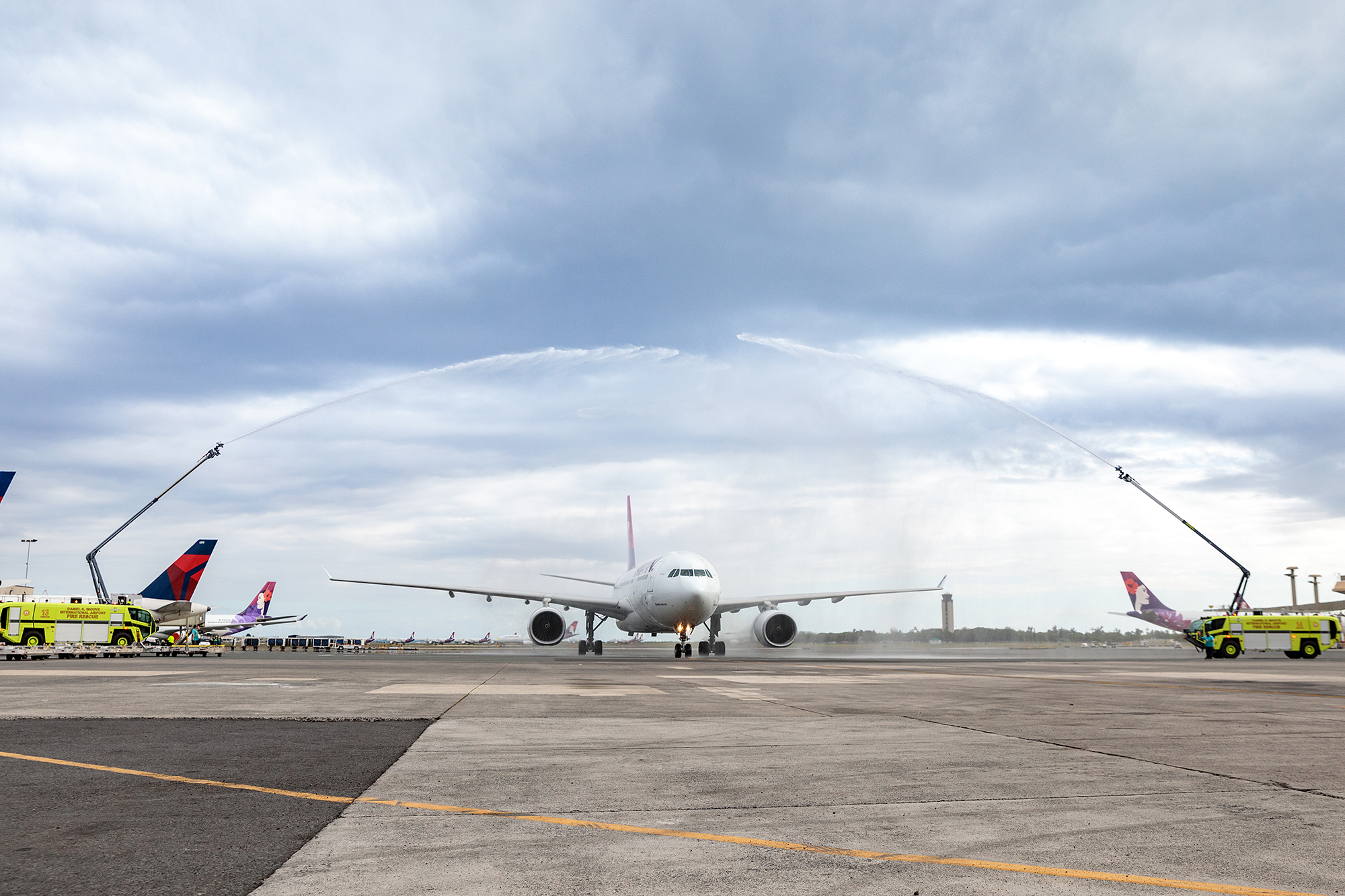 The Hawaiian Airlines plane arriving in Honolulu to a warm welcome. Photo: Zak Noyle
"When we saw the virus coming," Noyle told Surfline, "we quickly pivoted. We looked around and saw how other countries were handling it. We wanted to figure out a way to flatten the curve and help Hawaii. So, we started looking at a lot of the Asian cultures that were utilizing masks. It's not like, 'I'm wearing a mask because I don't want what you have.' It's more like, 'I don't know if I'm sick, so I'm going to cover myself up to protect you.' That's the way to show aloha. It's being respectful of others."
READ MORE: How Surfers Are Helping During the Coronavirus Pandemic (Part I)
Having Hawaiian Airlines onboard to help was crucial to the mission's success. With such a high volume of masks, the cargo load was pretty hefty, so the crew had to modify the plane to ensure everything would fit. And that was before they even took off.
"We got them to charter a plane with no passengers to China," explained Noyle. "They flew from Hawaii to Korea, then slept. They flew to China and didn't get off the tarmac. They were there for three hours, then flew back to Korea to sleep, then flew back to Hawaii. That was the bare minimum requirement for sleeping and safety. They were so awesome."
READ MORE: How Surfers Are Helping During the Coronavirus Pandemic (Part II)
But then came distribution. How would they deliver all these masks to communities across the Hawaiian Islands? Luckily, Noyle has a rolodex chock full of pro surfers. From Carissa Moore and Zeke Lau on Oahu, to Kai Lenny and Ian Walsh on Maui, to many others, Noyle had an arsenal of willing helpers to get the masks into the hands and onto the faces of Hawaiians.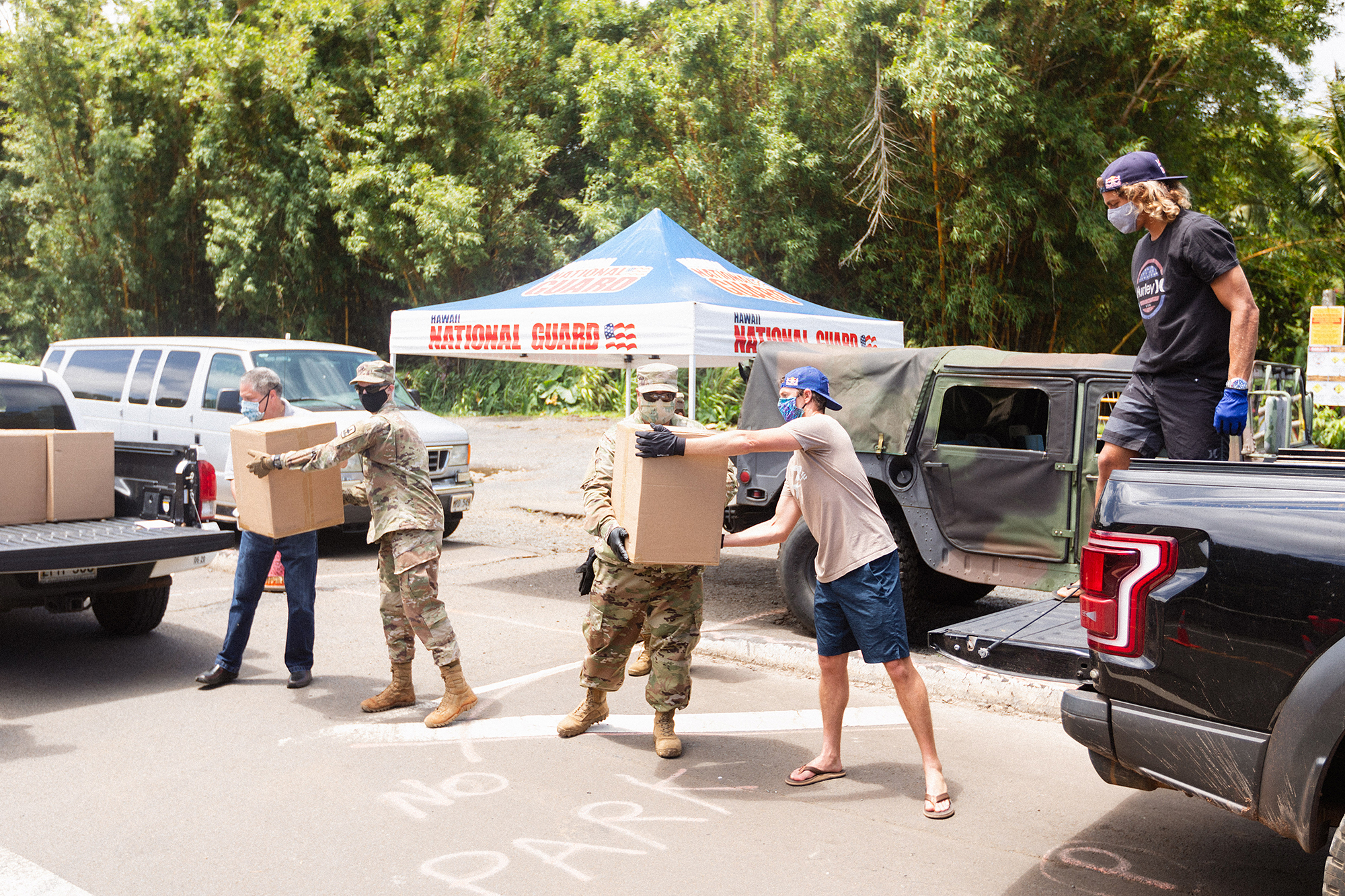 Ian Walsh and Kai Lenny unloading masks in Maui, ready to distribute.
And it wasn't just the on-the-ground help from the pro surfers to hand out masks. By utilizing their massive followings, Noyle hopes to inspire the younger generation to get involved in helping their communities.
READ MORE: How Surfers Are Helping During the Coronavirus Pandemic (Part III)
"Including these surfers and using their voices to get the message out," Noyle said, "it was something we felt could broaden the spectrum of this effort and to give validation to it. Kids look up to these surfers – Carissa, Jamie, Makua, all of them – as heroes. In Hawaii, they're our pro athletes. The pro surfer is idolized in Hawaii across the board. So, we used their platforms to get across the importance of mask-wearing and community service to the younger generation."Nathan Florence. Photo: KeokiEli Olson. Photo: Keoki
By hosting mask drives and handing out the protective gear for free, Ever1ne Hawaii is doing their part to safeguard Hawaii from the spread of COVID-19 and curb the resulting burden on healthcare professionals. And when you think about it, what embodies the Hawaiian spirit more than that?
"Hawaii is all about aloha," Noyle said. "It's all about taking care of your community. People are living month to month, week to week, day to day. A mask wasn't on the list of top priorities for people to get, or they didn't know where to get them. So, this was where we could help. We could provide them with this extra layer of protection, while also taking the weight off our healthcare system."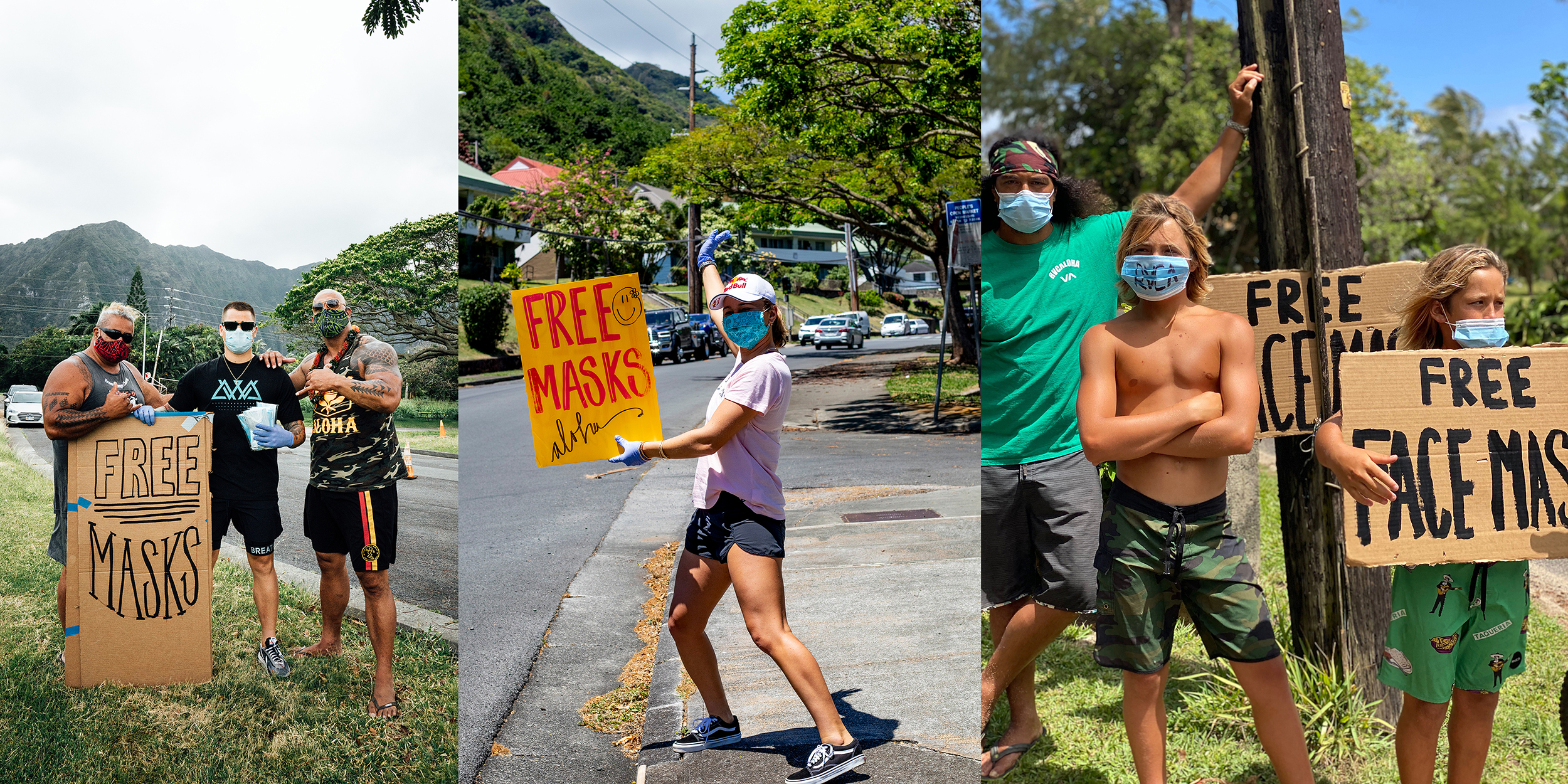 Learn more about Every1ne Hawaii here.