JESSB – 3 NIGHTS IN AMSTERDAMAuckland-based MC, JessB unveils her 3 Nights In Amsterdam mixtape, out now. As one of New Zealand's brightest exports, the six-track collection propels JessB's rising status even higher as she masters new sonic landscapes and styles, pulling from dancehall, reggaeton, garage and electronic influences amid her trademark sass-leaning rhymes and hip-hop flavour.A deluxe demonstration of rap and unwavering energy, 3 Nights In Amsterdam exudes hype and is just as suited to a dance floor, as it is on stage. JessB's infectious fierceness and inclusive verses are unrivalled, her confidence akin to a contemporary Missy Elliot.As previewed via an accompanying video earlier this week, "Bullseye" opens the mixtape to plucked notes over a sped-up reggaeton-style rhythm. "Do your dance, if you know you something", is the invitational line from JessB between fast-paced and fiery verses. "We That Filth" continues with a dancehall-feel, winding up a hypnotic flow with sharply-cut raps that fall effortlessly in line with every beat. Next, "09 To The World Freestyle" opens to the line, "if you don't do it for your hometown who will?" a long-carrying metaphor for JessB's relentless drive and work ethic, on a track that's testament to fearless artistry.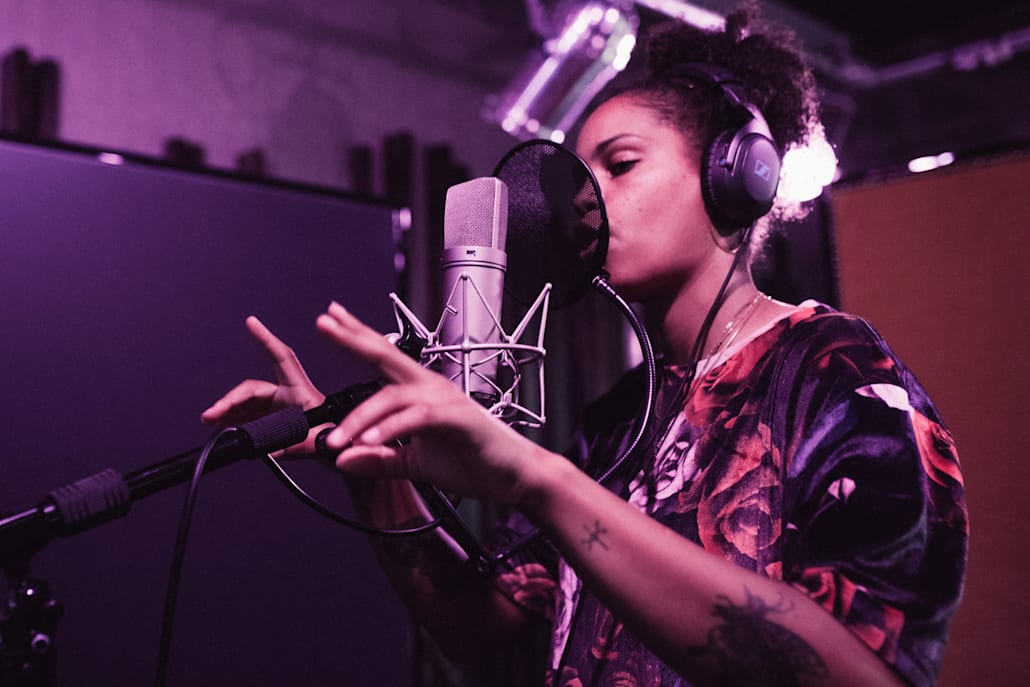 3 Nights In Amsterdam was mixed and mastered at Red Bull Studios in Auckland.The auspicious rapper was the first female MC to appear on Red Bull 64 Bars in 2017, and has since cultivated her sound across stages in London, Amsterdam, LA, New York and Australia with performances at Venice Biennale, Red Bull Music Festival, Splendour in the Grass, Laneway Festival and Fire Fight Australia, alongside Baker Boy. JessB has taken home the 2019 MTV Europe Music Award for Best New Zealand Act, garnered strong support from Spotify's global A1 Hip-Hop playlist to then perform at the flagship Spotify A1 Live event, all the while releasing two acclaimed EPs, New Views and Bloom. Most recently, she has featured on "Flying" as part of NZ rap collective BLKCITY, and had her thrilling Triple J Bars of Steel performance go live on Apple Music.A confident high-class collection of hip-hop that delivers message-driven raps through a refreshing and fearless lens, 3 Nights In Amsterdam promises JessB's fast rise is only set to continue in 2020.
The long-awaited new album from fellow Central Aucklander Diggy Dupé is self-assured and timeless. It's a triumph of Aotearoa's hip-hop community and a clear example of the sentiment That's Me, That's Team.The list of contributors alone is exciting, from frequent collaborators SmokeyGotBeatz and Rizván, to Christoph El' Truento, ILLBAZ, and Church & AP's Albert Purcell. It makes sense then that That's Me, That's Team is one of those releases where choosing a select few singles would have been a tough task, as 'That's Team', 'CT&T' and 'Keke Boy' are just three of a dozen blinding tracks, kicked off with a nostalgia trip audio clip from Diggy Dupé's first birthday at the start of 'That's Me'.
Church & AP are out to remind everyone that they're the young kings of Auckland in their two new singles "Deathwish!" and "Laxit".It's been a hectic 2020 for the dynamic duo, who have released five singles so far, with fans greatly anticipating a strong follow-up on their successful debut-album "TEETH".
Up and coming underground artists Shiraz & LSJ continue to propel their careers forward with the release of their new single "RISKY".The experimental track fuses afrobeat, electronic, and hip-hop into a head-nodding melody that you can't help but groove to.Released alongside a music video directed by AfilmbyPedro, Shiraz & LSJ proudly represent their cultures and school, waving flags and holding a road sign that reads 'Erin St'.With such a change in sound, fans are now eager to see what will come next from another one of Auckland's most exciting acts right now in Shiraz & LSJ.